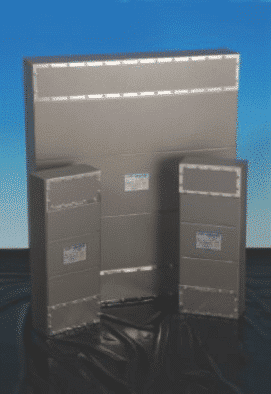 Amp Range: 6 – 100 A, Frequency Range DC/50/60 Hz
THE N255X Filters are RFI/EMI high performance power filters used in TEMPEST and EMP applications. These filters provide 100dB insertion loss from 10 kHz to 10 GHz in both symmetric and asymmetric modes up to full load.
To achieve more than the maximum ratings, two or more of the same filter type may be connected in parallel without any significant performance loss. When fitted with transient suppressors, they give almost total protection against mains-borne transients.
Applications
High Performance Screen Rooms; Providing Attenuation of Both the Incoming and Outgoing Mains Supply Lines to Match the Shield Performance
TEMPEST Applications
EMP Protection Systems
Electrical Specifications
| | | | | |
| --- | --- | --- | --- | --- |
| Part # | Current Max | Frequency | Max Voltage | # of Lines |
| N2550 | 6 A | 50/60 Hz | 250 V | 2 |
| N2551 | 6 A | 50/60 Hz | 440/250 V | 4 |
| N2552 | 16 A | 50/60 Hz | 250 V | 2 |
| N2553 | 16 A | 50/60 Hz | 440/250 V | 4 |
| N2554 | 32 A | 50/60 Hz | 250 V | 2 |
| N2555 | 32 A | 50/60 Hz | 440/250 V | 4 |
| N2556 | 63 A | 50/60 Hz | 250 V | 2 |
| N2557 | 63 A | 50/60 Hz | 440/250 V | 4 |
| N2558 | 100 A | 50/60 Hz | 250 V | 2 |
| N2559 | 100 A | 50/60 Hz | 440/250 V | 4 |