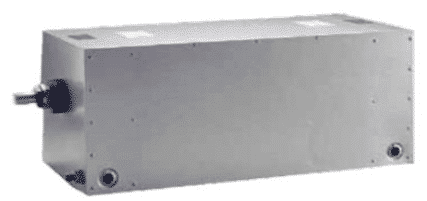 Amp Range: 400 -800 A, Frequency Range DC/50/60/400 Hz
The N2510 Power Filter Series are RFI/EMI single line power filters used in high current and EMP applications. The units enable supply lines carrying high current to be filtered in an economical and compact manner.
The N2510 series have a standard high current capability. They are fully tested for attenuation performance, voltage withstanding to 1KV for thirty seconds, and insulation resistance.
Typical performance, as measured in a 50 Ohm system in accordance with MIL-STD-220A, is 80 dB insertion loss from 100 kHz to 10 GHz.
Applications
High current power circuits
EMP installations
Electrical Specifications
| | |
| --- | --- |
| DC Resistance Per Line | 0.15 ? – 0.15 ? |
| Case Temp Rise On Full Load | +20 °C – +20 °C |
| Current Max | 800 A – 400 A |
| Frequency | 50/60 Hz – 400 Hz |
| Full Load Dissipation | 1.3 KW – 1.3 KW |
| Max. Recom. Case Temp On Full Load | +70 °C – +70 °C |
| No. of Lines | 1 – 1 |
| Series Inductance Per line | 8.75 uH – 8.75 uH |
| Shunt Capacitance Per Line | 64 uF – 64 uF |
| Voltage Drop on Full Load in 350V 50/60Hz System/Line | 3 V – 3 V |
| Voltage Frequency Maximum | 440/250 – 120 |