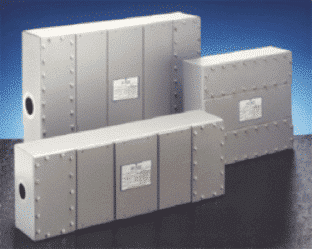 Amp Range: 6 – 100 A, Frequency Range: 2 Line Filters = 250V-DC/5060Hz – 120V-400Hz. 4 Line Filters = 440/250V-DC/50/60Hz – 220/120V-400Hz.
These filters provide 100 dB insertion loss from 150 kHz to 10 GHz at full load in both symmetric and asymmetric modes.
These reliable general-purpose filters have a wide variety of applications.
Common uses include:
Filtering mains supply cables to RF screened rooms where 100 dB attenuation is required.
Filtering mains supply cables to computers and other types of equipment that contains solid state circuits requiring a high degree of protection against mains-borne interference. For this type of application, the filters are usually wall-mounted adjacent to the equipment.
Fitted with transient suppressors, they give total protection against all normal mains-borne interference.
For 400 Hz supplies, particularly those required to meet stringent limits on wave form distortion and harmonic content.
For Tempest applications where 100 dB attenuation is specified for security reasons.
Filters of the same part number may be connected with parallel lines to give increased current capability without loss of attenuation. Please contact the sales office for further advice on the most suitable method. The filter networks of this series are hermetically sealed in high quality corrosion-proof electroplated steel cases.
Electrical Specifications
Current Rating
6 – 100 Amps
Number of Lines
2 – 4
Voltage Frequency Maximum
2 Line Filters = 250V-DC/50/60Hz- 120V – 400Hz
4 Line Filters = 440/250V-DC/50/60Hz- 220/120V-400H