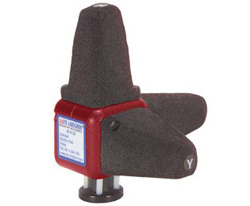 Frequency Range: 100 kHz – 6 GHz
The laser powered HI-6105 Electric Field Probe embodies the latest innovations in isotropic sensor design and low noise, miniaturized electronics.
The HI-6105 Electric Field Probe is a fully intelligent sensor enabling fast and accurate EMF measurements with industry-leading performance specifications. Optical coupling to a variety of readout options makes this new probe ideally suited for a wide range of field monitoring applications.
The laser power allows the probe to be used for extended periods without removal for battery charging etc. It lends itself to applications where permanent mounting is an advantage.
Electrical Specifications
Detection
Isotropic (X, Y and Z Axis Readings)
Frequency Range
100 kHz to 6 GHz
Frequency Response
100 kHz to 26 MHz +0.5, -3dB
26 MHz to 2 GHz +/- 1.0 dB
2 GHz to 4 GHz +/-2.0 dB
4 GHz to 6 GHz +/-3 dB
Dynamic Range
0.5 – 800 V/m (Single Range)
Resolution
0.01 V/m
Isotropic Deviation
+/-0.5 dB
Linearity
± 0.5 dB of reading
Sample Rate (Typical)
HI-6100 Field Monitor – 70 samples/second maximum
HI-6113 Laser Data Interface – 44 samples/second maximum
Overload Withstand
>1500 V/m CW