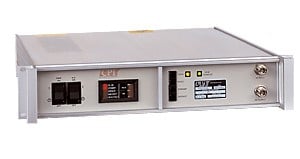 Frequency: 4.0 GHz – 18.0 GHz
For test and measurement applications that require RF power of 20 Watts, CPI offers the 6900K4 Series power amplifier. For testing on antenna ranges, in EMC chambers or on a test bench, CPI provides equipment built with quality and reliability that you can trust.
The 6900K4 series amplifiers are constructed with proven reliable all metal-ceramic travelling wave tubes (TWTs), which are renowned for their high power and wide band capabilities. These TWTs have a wide range of applications and are readily available, resulting in CPI's ability to offer additional tubes in a timely manner. The power supply for the 6900K4 series has a calculated MTBF of more than 41,000 hours. Combined with CPI TWTs, the 6900K4 series amplifier provides the industry standard for dependability.
The 6900K4 series TWT amplifier has a full line of standardized options including remote control, input and output isolators and harmonic filters. For ATE applications, IEEE 488 bus controllable amplifiers* are available, with internal GPIB cards or external modules. More than a thousand CPI 6900K4 series amplifiers are used throughout the world, performing over a wide range of specifications, in a variety of environmental and operating conditions. t