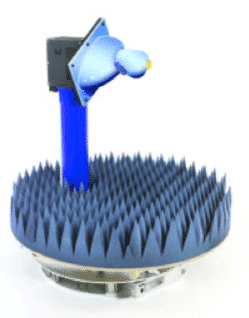 ETS-Lindgren's Model 2020 Heavy Duty Multi Axis Positioner is designed to perform measurements of spherical antenna patterns plus total and effective isotropic radiated power of wireless hand-held devices.
In order to minimize any potential RF obstruction or distortion of RF signals from low directive wireless transmit antennas, each model's rotating shaft assembly is constructed of low reflective dielectric materials.
The Model 2020 heavy duty positioner features an interchangeable post system that allows for testing wireless handsets with a saline filled torso (not included), and a light duty post for testing wireless handsets alone. This unit also offers 360° independent rotation in both azimuth and ortho axes. This positioner has a maximum load capacity of 35 kg (75 lb) for heavy duty post or .45 kg (1 lb) for the light duty post.
Physical Specifications
| | |
| --- | --- |
| Maximum Height | Consult Factory |
| Minimum Height | Consult Factory |
| Nominal Height | Consult Factory |
| Nominal Load Capacity | 35 kg   ( 77.16 lb ) |
| Primary Composition | Aluminum Turntable/Wood Upper Deck |